ashar was born in Surrey, the UK in 1942. Is currently living and working on the Levels in Somerset. Spending the first months of the year on the moors sketching. Using these sketches to reconnect with her feelings for a place, when back in the studio working.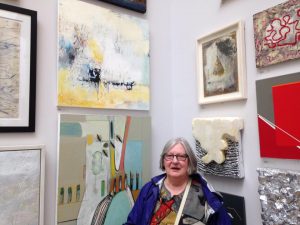 ashar at the RA under 'let go'
Since graduating with a BA (Hons) in fine art from Plymouth ashar has continually challenged her practice. Working in oils on wooden panels creating abstract works with the ability to move the viewer. Endeavoring to paint her responses to place and not what she sees. The levels and moors being her inspiration, however, ashar says "I do not want to depict them I want to express my feelings for them and create work that has the ability to be felt".
She has work in collections all around the world, including Singapore, Australia, and Europe, as well as a piece in The Millfield Collection. In 2017 ashar's piece 'let go' was hung and sold at the Royal Academy. A finalist at "The Chaiya Art Awards" 2018. A Finalist in British Woman Artists 2017. Runner-up for Annex Acquisition Collection Award 2017. Prizes from The Atkinson Open and Fringe Arts Bath 2016. She is a member of the RWA Artists Network
media
The materials she uses and the processes are an important part of her practice. ashar works in mixed media on wood panels and works mainly in oils with other media such as oil pastel, graphite, metal leaf, crayon, ink pencils, and anything else that may fit the piece.
to contact ashar
email me
Click here to sign up for my newsletters
link to ashar featured artist page on artsyshark
to hear her radio interview on Radio10 go to links